Staff Communications Solutions
Safety of staff and freeing staff time.
A communications system developed for Department Stores, DIY and other retail operations, which allows staff to operate freely around the store according to customer demands. Helpfinder can increase staff efficiency whilst enhancing customer satisfaction.
A communications system developed for Retailers, Banks, Building Societies and other organisations where a range of specialised services is needed at the point of customer contact.
An effective, rugged, state of the art communication system based on DECT technology, giving your staff the ability to deliver improved customer service and also feel more secure with its inbuilt personal safety button.
Cashier Open Alert "Cashier number three..."
A visual and audio announcement of next available cashier or checkout position. Choice of colour led lights and plastic surrounds.
Our poles provide safe, unobtrusive delivery of electricals and other services to any point in the store.
Simple to install

Aesthetically pleasing

Increases Point of Sale capacity
Provide highly visible information for customers. Fix to checkout, counters or service poles.
Checkout open/closed

Assistance required

Customer services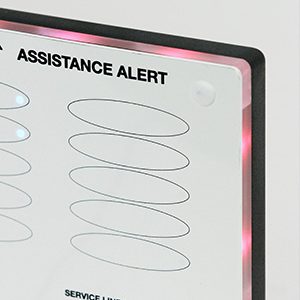 Made to customer's requirements. Mounted independently or attached to service pole. Bespoke signage/displays.
Found Something Interesting?
Simply use this form on the right to submit what you found interesting. We would like to hear from you and give some advice on your position when considering new communication systems for  your business.