Cash management solutions.
CashNet™ fully automated closed loop cash management.
CashNet™ is the innovative cash management solution that enables users to concentrate on their core business whilst proven technology counts and recycles cash around their business sites.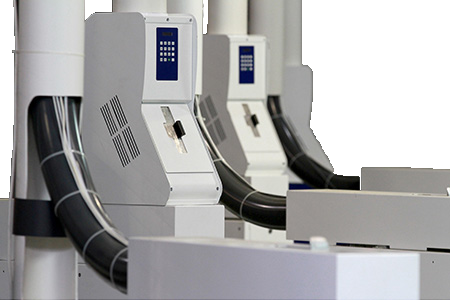 Working with our technology partners we are able to provide our customers with solutions specific to their needs that deliver safety and security to staff, improved profits and reduced CO2 emissions by reducing the cash in transit visits to the site.

Developed in a modular form the solution can be introduced as a simple add-on to a current pneumatic tube system or a full closed loop 2-way system that manages the transfer of notes between trading areas to recycling/counting devices and/or dispensing devices such as ATM's.
Get an optimised cash security system today.
Retailers are continually struggling with the costs, processes and security associated with cash in their stores. CashNet™ provides a revolutionary solution to these issues by enabling a closed secure solution to be implemented which automates the processing and recording of cash in one central point. It also enables cash taken through the tills to be recycled through ATM's thereby supplementing or replacing the need for third-party deliveries of cash.

Retail banks also need to manage cash efficiently and CashNet™ delivers a compelling ROI for self-sufficient branches.

Through its automation and software, CashNet™ radically reduces the financial and environmental cost of cash processing.